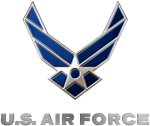 Begin Your Air Force Career, by completing the Air Force Application
Join the Air Force – Complete the Air Force Application Today
The actual process of joining the United States Air Force is a simple process.  Before completing the Air Force application, you should be aware that the air force has several requirements and you will under go an evaluation such as an aptitude test and a physical.
To Apply to the Air Force you need to be:
Between 17-27 years of age
Be a U.S. Citizen or legal, permanent resident.
Have a High School Diploma
or have a GED with at least 15 college credits
Air Force Benefits
Enlisted Education – If you have, or plan to obtain, a high school diploma, GED or trade school certificate
Enlisted Pay – In addition to a long list of benefits Airmen receive, they also get a steady paycheck. Find out how much you can expect to see each month.
Officer Pay – Your pay is commensurate with rank, time in sevice and yearly cost-of-living increases.
Officer Education – If you have, or plan to obtain, a college degree
Direct Commission Officer Education – If you are, or plan to be, a lawyer, clergyman or healthcare professional
Healthcare Professional Pay – In addition to base pay, Commissioned Officers may be eligible for special incentive pay and substantial annual bonuses.
Insurance – Insurance is never fun to worry about. So the Air Force make sure you don't have to.
Retirement – The Air Force takes care of Airmen, and that means continuing to take care of them well after they retire from the Air Force.
Recreation – Even in the Air Force, you'll have down time to do the things you enjoy — many of which you'll be able to do right on base.
Learn More the Air Force Benefits