Working at McDonald's and landing a McDonald's Job.
McDonald's Application information. If you are looking for a McDonald's Job, complete a McDonald's Application online to join the McDonald's team.  Read below to learn more about the McDonald's Application process, as well as working with the McDonald's Crew.
Interested in McDonald's Jobs – Learn more about the company.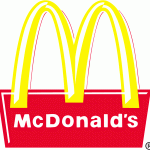 McDonald's History: McDonald's Corporation is the world's largest chain of hamburger fast food restaurants, serving around 68 million customers daily in 119 countries. McDonald's is headquartered in Oak Brook, Illinois.  Richard and Maurice McDonald began the original McDonald's restaurant in 1940 as a barbecue place. In 1955, Businessman Ray Kroc joined the company as a franchise agent. Ray Kroc open his first McDonald's Franchise on April 15, 1955 and Kroc quickly saw the potential for McDonald's as his first day sales were $366.12.  After opening with such success, Ray Kroc purchased the chain from the McDonald brothers and oversaw its worldwide growth for years to come, including growth to just over 700 stores nationwide by 1965. If you are interested in joining the McDonald's team, consider completing a McDonald's Application Online.
McDonald's Corporate Revenue: McDonald's currently has restaurants in 119 countries, with 80% of those resturants being franchised. McDonald's corporation's revenues come from the rent, royalties and fees paid by the franchisees, as well as sales in 20% company-operated restaurants around the globe. A McDonald's restaurant is operated by either a franchisee, an affiliate, or the corporation itself. McDonald's primarily sells hamburgers, cheeseburgers, chicken, french fries, breakfast items, soft drinks, milkshakes and desserts. In response to changing consumer tastes, the company has expanded its menu to include salads, fish, wraps, smoothies and fruit.  To Learn more about McDonald's corporation, check out the McDonald's company profile or if you are interested in learning more about the McDonald's culture check out the video series below.  If you want to apply for a position at a local McDonald's, you can complete a McDonald's Application Online, click here.
McDonald's Job Culture: McDonald's is an industry leader in many regards, below is a series of videos that will help you get to know more about McDonald's and see if it is the right career fit for you.
McDonald's Financial Statistics
McDonald's Corporation. (NYSE: MCD)
Industry: Restaurants, Fast-Food & Quick-Service
Global Employees: 1,800,000
Revenue: US$ 27.006 billion
Worldwide McDonald's Locations: 34 ,000+
McDonald's Financial Highlights: McDonald's Financial Information